Bygone Train Trips and Stony Creek Falls
Took the Kuranda Scenic Railway for a wonderful ride on the old bench seats in the vintage carriages, plenty of room today! Found yet another Rail Australia site which informs us
Route: Cairns – Kuranda
Duration: 90 minutes
Distance: 34 kilometres
To Kuranda: 8.30 & 9.30am
From Kuranda: 2.00 & 3.30pm.
Special needs: Wheelchair access, Dietary needs
The original Kuranda Scenic Railway is a spectacular journey comprising unsurpassed views of World Heritage Listed rainforest, steep ravines and picturesque waterfalls within the Barron Gorge National Park.
Constructed between 1882 and 1891 it is considered an engineering feat of tremendous magnitude. Hundreds of men were employed to build the 15 hand-made tunnels and 37 bridges that stand as a monument to the pioneers of tropical North Queensland.
Full Steam Ahead! Well, it's actually a diesel locomotive with carriages built in Ipswich, Qld in 1909-10. Here's a map of the route. Down the Barron Gorge and we're soon at Barron Falls Station where we all stop and take photos of the 265m Falls which must be spectacular and scary when it's  in flood.
It's terrific to have real windows where you can see the view, feel the breeze, smell the engine and take lots of photos, especially as the train takes a bend. At Stony Creek there's the famous trestle bridge and waterfall but the train doesn't stop so it's rather difficult to get a photo of them both together. In 1891, when the railway was completed, the governor had a marquee set up on the tracks to celebrate. Here's an 1892 News article,  a  old photo of the bridge being tested in 1890 with the falls behind it, and an article.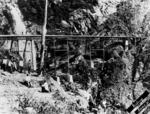 Such an enjoyable ride and just glorious on a beautiful sunny day!
On 25 June 2011, there was a special train to commemorate the first passenger journey on the line 120 years ago.  There's quite a few old photos including the one below on the Kuranda Scenic Railway website.